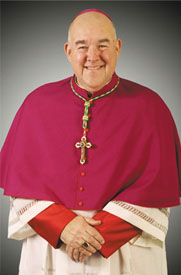 D

ear Sisters and Brothers in Christ,


I am pleased to support our Catholic cemetery (Calvary) which offers Catholics an opportunity to thoughtfully decide their cemetery needs in advance and without pressure.


Death is always a significant moment for Catholics: the culmination of our earthly pilgrimage and the passage into eternity. Hence, burial in a Catholic Cemetery is an important decision as we are comforted with the knowledge that a Catholic cemetery is a sacred place which reflects the doctrines and liturgy of our Catholic belief.
Calvary Cemetery of Nashville is unique. It is a spiritual connection to the Catholic culture and history of Nashville.
Calvary is a place of faith.
A testimony to our baptismal belief in the communion of saints and the resurrection of the dead. It is a place where we continually pray for all those buried and for ourselves. It is now a place of burial, by choice, for those who have been members of the Catholic Church, for their loved ones and for those who in other ways were close to the faith and life of the church.


I urge you and your family to take advantage of this opportunity to enhance your understanding of the Catholic Burial Rite and to prayerfully consider the information being offered to you.


In the Divine Word,

Most Reverend David R. Choby